You probably didn't think that grill grates had a big part to do with how well barbecues are done, right?
They almost seem like a feature that you can skip, but no, they are not.
Grill grates position foods well over the fire, suck in good heat which is transferred to the food and are responsible for all those pretty marks you see.
However, using the right grill grates goes a long way to determine the perfection of your food, hence, we share details of the best grill grates out there for your excellent BBQs.
What are the perfect features of good grill grates.
Strong and durable
Grill grates are solely made from metal because of their direct placement over fire or heat, hence for such excruciating pressure on the metal, it has to be made of very good material.
Some tested materials that are proven to be durable are chrome steel, aluminum steel, cast iron steel etc.
Read about the material make of the grill grate before making your purchase to ensure that they are strong and will last you for a very long time.
Cheaply made grates are very likely to go bad shortly and if not careful may melt over the fire while you cook. Make sure to avoid this against pricing.
Good heat transfer
Different metals conduct heat higher than others. Some in other cases, like copper, are good for holding high levels of heat which may not be the best if used for your grill grates as this may burn your food fast.
Meanwhile, other metals are good conductors of heat for grill grates which hold in a necessary amount of heat that is transferred to your food while it cooks.
This means, your food doesn't just cook by direct fire only but has some cooking done by the heat contributed from the metal.
Non-stick surface
Nobody wants to have to grill and struggle with removing your food from the grates.
Hence, do not compromise on purchasing non- stick grill grates, otherwise, we bet that you will hate your grilling life for a long time.
A non-stick element to consider is porcelain and goodly, most grates come with this feature. Therefore, this should not be hard to find.
Well designed
Most standard kinds are lined horizontally, vertically or cross diagonally. These are all fine and should be able to do you a good job.
However, the amount of spacing left between each mark is what you should be considering. The perfect grates should allow you grill small foods like small tomatoes over them without any falling into the fire. This is to ensure that all food kinds can easily be leveled on them.
In the same way, they ought to be straight to allow you balance your food with ease. Crooked grates are a waste of time, so do yourself a favor and ignore them.
Then, if you are up for pretty marks (we think you should) on your foods, they are specially designed grates that can be placed on the standard grates to create those appetizing marks on your food.
Review of best grill grates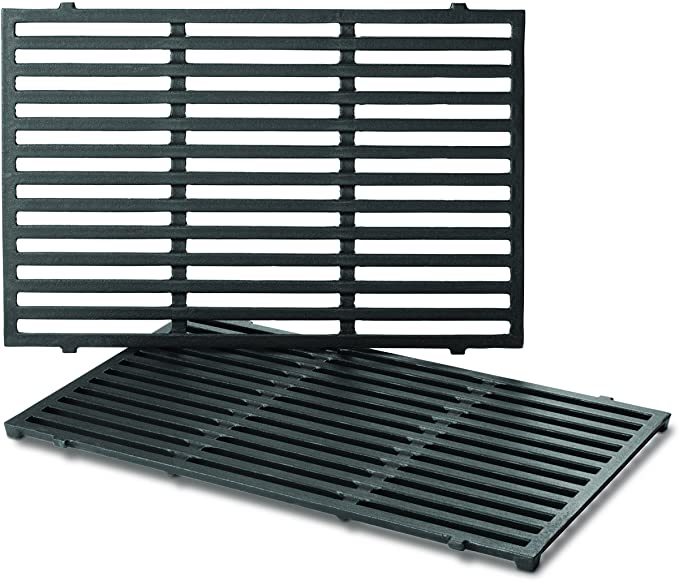 Weber 7638 Porcelain-Enameled Cast Iron Cooking Grates for Spirit 300 Series Gas Grills
Cast iron is one of the best-preached metal material and for the grates to be made of them, we couldn't ask for more.
It has the tendencies of holding good amounts of heat for faster and even cook. It is gladdening that Weber has one of these made with this material. To top it up, it is coated with porcelain which offers a non-stick and durable feature.
If you are on a budget and up to have a grill grate that will last you the longest, this make is the one to go for. Although, it is specifically designed for the Spirit 300 Series. Hence, if your grill is not this make, you may still use cast iron with porcelain coating as a basis for purchasing your kind.
This seems like all you need for a good cook with an amazing grid design to keep your food leveled while you cook.
No need for portions hanging off the grids and no fears of burning your food. You can also be sure to have some really good marks on your food when done because of the rich thickness of metal for the grids.
Quite a pricey kind, but for its make, this is an investment worth the have.
Advantages
Durable
Makes pretty food marks
Holds heat well
Non-stick
Disadvantages
Only for the Spirit 300 series
Pricey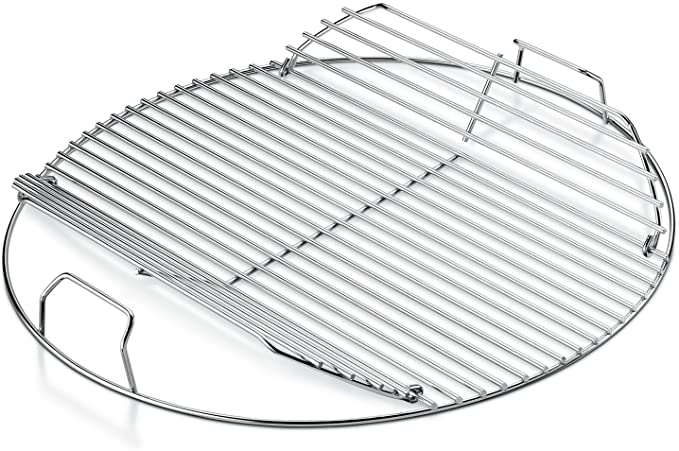 Weber 7436 Replacement Hinged Cooking Grate
Weber never ceases to amaze us with their good collection of grilling products and this hinged replacement grill grate is one of no exception.
The struggle of having to remove hot grates from the firebox just to add charcoal is solved with this grate. It is hinged to allow you to add charcoal pieces while cooking. Just release the hinge, flip up the opened side and fill up your firebox.
Obviously, with a brand like this, we expected that its material make will not be disappointing and of a truth, these grates are made of stainless steel that will last you for long.
The grids are also well positioned to prevent food from falling into the fire while you cook and firm enough to give you some pretty marks on your food.
Also, handle or adjust the grates with its attached handle, although not cool touch, they still help with easy adjustments. Use a heatproof glove when handling, however.
Finally, remember to clean the grates with a grill brush while still warm to prevent rusts.
Advantages
Heavy-duty steel
Simple to add charcoal
Thick grids
Weber Stephen Products 7639 2pk Stainless Steel Cooking Grate
For a grill that fits rectangular grates, this is one of the best kinds on the market to use which are also good grill grates for gas grills. It is a stronger make of the above but comes with a standard design.
Like most cooking grates for Weber grills out there, this one allows you to cook your food in all the right senses. It is highly resistant to rust and has grids that keep your food laid evenly while cooking.
Coming in twos per pack, this quality of Weber grates may be expensive but for its durable make, we will say it is a good numbering.
For a good quality stainless steel make, it is advisable to prepare the grates before placing your food on them as these are not non-stick. Make sure to apply some oil for grill grates on them before placing your food on them to prevent the foods from sticking to the metal.
A better option to use will be grill mats to save you the battle of having to remove foods from the grates.
Afterward, clean them while warm to prevent any openings for rust. Although they are specially made to block rusts, it is better to be preventive.
Advantages
High quality
Long lasting
A standard for Weber grills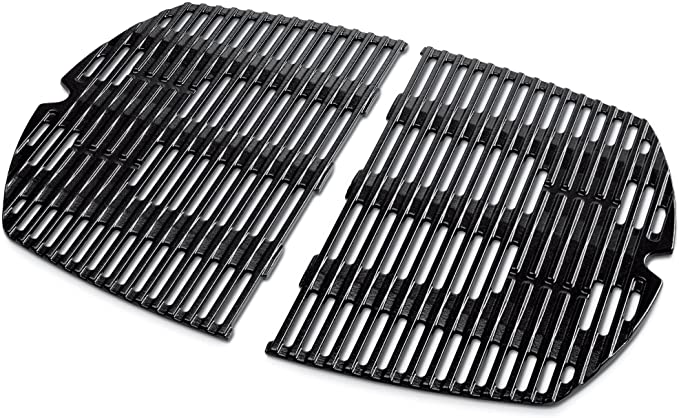 Weber 7646 Porcelain-Enameled Cast-Iron Cooking Grates
Another cast iron with porcelain coating from the Weber guys. The first thing we love about this one is its design made well to fit into the Q300 or 3000 Weber series.
This again is a shortfall to those who do not have this make of a grill, so, we encourage you to purchase similar qualities of this grate if you are bent on having the same things.
Looking at what it offers, this set of tools are like twins to the other cast iron make in this selection except for the fact this version has proven to rust after a while of use.
It is therefore not as long lasting as the other but will serve you the needs of cooking with perfect doneness, making them pretty and preventing sticking.
It is easy to clean but the same rules apply; clean while warm using a brush for porcelain grates. Afterward, do a water cleaning and dry.
Advantages
Perfect fit
Makes pretty foods
Decent quality
What grill grates are the best?
We go for the Weber 7638 Porcelain-Enameled Cast Iron Cooking Grates for Spirit 300 Series Gas Grills.
For the fact that cast iron with porcelain coating is the best form of material to have for your grill grate, this product suits us best.
They are strongly made to last for a long time and stand the test of heavy duty cooking. You are sure to have a good use without rusting which makes it safe for cooking.
The grids are evenly layered for good food balancing which aids with excellent doneness. Cast iron holds heat well and aids with faster cooking and this product offers just that.
Finally, prettiness is an attribute for it that we can't leave without saying. Be prepared to have all the beautiful marks on your food in store while the porcelain coating prevents the food from sticking to the grates.
Hi, I'm Mhen and I'm a HUGE fan of Food and Cooking.
Do you enjoy grilling sessions with your family while staring at the beautiful fire pit flames?
Flame Gorilla is the site to learn how to have that perfect backyard experience.