Looking for the best electric smoker? Once upon a time, if you wanted to enjoy some flavorful meat cooked to perfection, you'd have to go to a restaurant with a smoker on the premises. Even the finest cuts covered in the world's most delicious rub wouldn't have the same depth of flavor if they were cooked slowly for hours in an oven. It's just not the same.
Have you ever wished there was an easy way to replicate that savory smokehouse taste at home?
Well, there is! Welcome to the world of electric smokers. These days, you don't have to own a restaurant to have access to a smokehouse. There are plenty of electric smokers by top brands available to give you a fast pass to flavor right in your backyard.
OUR TOP PICK
Char-Broil Deluxe Digital Electric Smoker
TOP REASONS TO BUY
Beautiful Design
Intuitive Controls
Extremely Well Built
KEY FEATURES
725 Sq Inch Smoking Chamber
Large Viewing Window
Uses Less Woodchips per hour
You don't even need mad kitchen skills to serve up tasty plates. In this guide to finding the best electric smokers, many of the name-brand models that made our list are quite easy for you to master on your own.
We know—many of you may have been smoking meat, fish, poultry, pork, and even veggies like a champ for a while. No worries. There's still room for you to level up your game and enhance your cooking process with one of these smoking hot devices.
From poultry to pork to beef to fish and more, the best electric smoker gives you all the heat and smoke you need to create the perfect meal. Once you take that first bite, you'll wonder how you went for so long without buying an electric smoker of your own.
Even if you're addicted to your grill, you have to admit that the whole process can be rather time-consuming. First, you have to fire up the propane or the charcoal. Then, you've got to keep an eye on the food so that nothing burns or dries out.
Can you set and forget your meat on the grill? Absolutely not. But you can with an electric smoker! It's so easy that all you have to do is plug it in, heat it up, add some chips to the wood chip tray, and let it go. You don't have to do much more than that.
There is one thing you have to do: Get some napkins and get ready for some of the juiciest, most flavorful food you've ever tasted.
Best Electric Smokers Roundup
Now that you have some background about how to live the electric smoker life, it's time to dive into our top choices for the best electric cooker. We've picked eight of the top smoking appliances and given you a run-down of each to make it an easy choice for you.
Keep in mind that "best" doesn't mean "most expensive." Some of these models made our jaw drop when we saw the price tag—in a good way. This means that not only will it be easy to stick to a budget, but you might even have some wiggle room to buy the model that has all the features you really want in an electric cooker.
Without further ado, here is our list of the best electric smokers.
Char-Broil Deluxe Digital Electric Smoker ( OUR TOP PICK )
SPECIFICATIONS
725 Sq. Inch Smoking Chamber
Large glass viewing window
Measures 18.1″ W X 16.5″ D X 32.5″ H
BENEFITS
Smokes enough meat for 8+ people
Extremely well built and insulated
Uses less wood chips then other models
Attractive design with a large cooking space, this device is solidly built, this double-walled smoker is well insulated to keep as much heat in as possible.
It is a cheaper smoker than many out there, quickly found for under $250 type, and comes with four adjustable cooking racks to give you plenty of flexibility no matter what cut of meat you are looking to smoke.
Its special feature is its glass door that allows the user to view foods while it cooks. Let's be honest; we all struggle with the urge to look inside, thus letting the heat and smoke out. But the downside to this is glass windows need to be cleaned frequently.
It offers a blue LED display screen to help you view the cooking temperature of the food and make adjustments as necessary. You can also remove its thermometer, which is nice because I have yet to see an accurate thermometer included with one of these.
It comes with a grease tray for trapping grease and juices when cooking and a large stainless steel locking latch for keeping the door tightly locked when cooking.
Finally mobility is made easy with its wheels and integrated handles, so if you plan to move it about frequently, this will come in handy.
Read Full Review: Char-Broil Deluxe Digital Electric Smoker
Advantages
Easy to use: Everyone I have recommended this model to always comes back to tell me how easy it was to use.
Easy to clean: Everything from the racks to the drip pan and even the wood chip box are easy to remove and clean.
Extremely well built: from head to bottom the Char-Broil Deluxe Smoker looks and feels solid, this does make the unit rather heavy though. Insulation and door seal is top notch.
Disadvantages
The included remote isn't great: I accidentally turned the smoker off once, and the signal tends to drop whenever you are 30′ away.
Internal thermometer isn't very accurate: The probe that adjusts the thermostat seems to ship being off by a few degrees. You may need to use your own thermometer to figure out how inaccurate your smoker is and adjust for that when setting the temperature.
Promotional sticker was hard to remove: The oversized front sticker was hard to remove and left a gluey mess on the viewing window.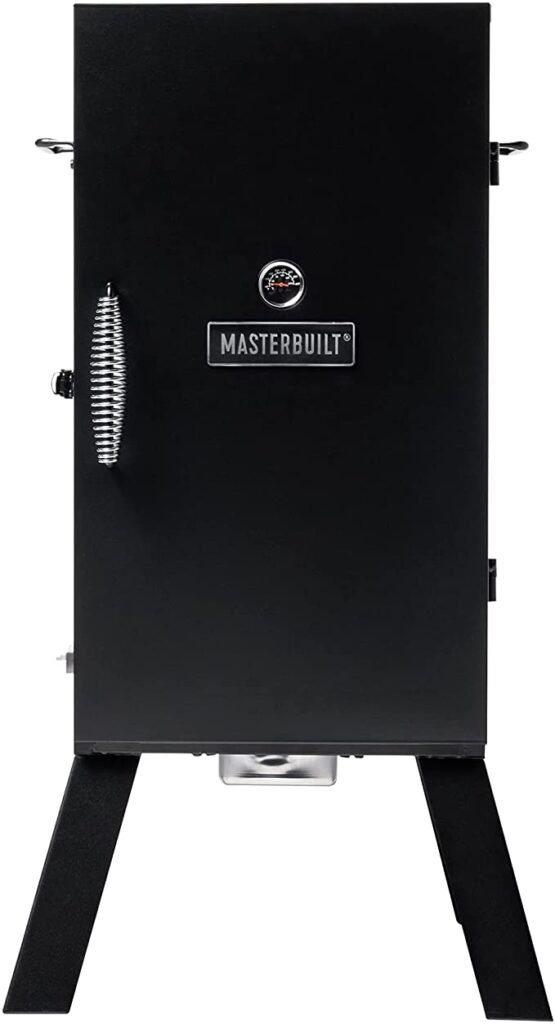 Masterbuilt 35B Electric Smoker ( BEST VALUE )
SPECIFICATIONS
530 Sq. Inch Smoking Chamber
1500 Watt Heating Element
Measures 18.1″ W X 16.5″ D X 32.5″ H
BENEFITS
Built in temperature gauge
Great for large families
Easily found under $200
The Masterbuilt 35B Electric smoker is a fantastic option for backyard chefs of all levels. It has easy-to-use temperature control settings and a variable control so you can keep things as hot as they need to be. With a 1500-watt heat element, you'll get the even smoking you are looking for—just adjust the air damper to get the cooking temperature you need.
This Masterbuilt model is easy to clean between smoke sessions, too. A wood chip tray slides out easily for quick ash clean up. A grease tray in the front catches food drippings without worry. Fill the removable water bowl to add moisture to any meat.
No charcoal or propane is needed to get this smoker going. Just plug it in, set the desired temperature, and let it do its thing for meal after savory meal. With three chrome-coated cooking racks, you've got plenty of room for meals—three chickens, two turkeys, three racks of ribs, or three pork butts.
Advantages
Great value: This is a great entry level smoker, it's easy to assemble and clean. While the 1500 watt element does a fantastic job of maintaining a steady temperature.
Very affordable: One of the most affordable electric smokers available.
Large enough for a small family
Disadvantages
No digital controls: The downside of the entry level price is a lack of any smart features, even the controls are simple dials. This could be a positive for anyone who struggles dealing with technology.
Small smoking chamber: Getting a smoker with a smaller chamber may seem like a good idea today, but odds are you'll end up up-sizing.
Could be better built: The paint has a common flaw that leads to flaking and it just isn't capable of standing up to abuse.
Smoke Hollow SH19079518 Electric Smoker
SPECIFICATIONS
Three Adjustable Chrome Racks
800 Watt Heating Element
Measures 13″ W X 15″ D X 34″ H
BENEFITS
Well Built with Integrated Insulated
Fully Digital Controls
1 Year Warranty
The Smoke Hollow SH19079518 Electric Smoker makes it even easier to get that smokehouse taste you crave right in your backyard. This fully insulated smoker has an integrated 800-watt thermostat for a consistent and even smoke. With a digital panel that controls the smoker and indicates temperature and cooking time, you are the master of your outdoor kitchen.
An adjustable air damper on the Masterbuilt Smoke Hollow makes it easy to control the smoke, and a pull-out drip pan ensures a quick clean-up. For even more moisture and tons of flavor, fill the water bowl.
Three chrome cooking racks allow you to cook more at once. You can smoke nine chickens, two turkeys, three ribs, or three pork butts all at the same time. Are you having a casual BBQ? You can smoke 36 sausages or 24 burgers for the whole crowd.
Advantages
Digital panel for easy temperature control: Everything is digitally controlled
Remarkably efficient for 800 Watts: I managed to coax this one up to 300F, which is no longer smoking temperature.
Easy to assemble and use: Comes out of the box ready to use, the digital controls are simple enough anyone can use them. This makes it a great choice for even someone who struggles with technology.
Disadvantages
Door latch is prone to damage: The door latch is great, however the way it's positioned means it's going to get banged into.
Not so well built: Some of the model's in this roundup are built like tanks, but not this one. I could dent the smoke box with my thumb.
No outside wood chip loader: I'm nitpicking here, however every time you open the door to refill the wood chips, out goes your heat and smoke.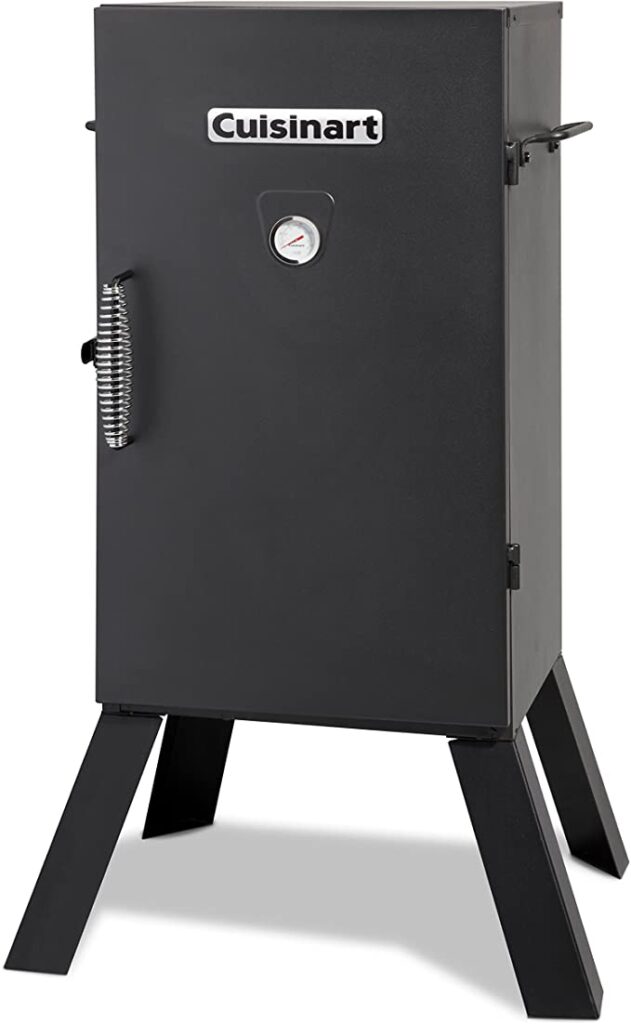 Cuisinart COS-330 Electric Smoker
SPECIFICATIONS
548 Sq In. of Interior Cooking Space
1500 Watt Heating Element
Measures 37.5 x 19 x 22 In
BENEFITS
Dial-style thermometer
Four racks
3 Year Warranty
If this is your first electric smoker, you'll be cooking like a pro in no time with the Cuisinart COS-330 Electric Smoker. This model is so useful that seasoned backyard chefs will love it, too. All you have to do is arrange your meat on the racks, set the temperature control, and wait for the magic to happen.
A 1500-watt heat element gives you a temperature range from 100°F to 400°F. Whether you want to cook it low and slow or crank the heat, you can do it all with the Cuisinart COS-330 Electric Smoker.
Advantages
High Max Temperature: You can quickly reach upwards of 400 degrees, which is far to high for smoking but makes the Cuisinart COS-330 more versatile.
Three Year Warranty: Virtually every electric smoker has a 1 year warranty so this is amazing!
Disadvantages
No electronic controls: Temperature is controlled by a simple dial.
Could be built tougher: It's strange to see something with a long warranty that also feels overly lightweight.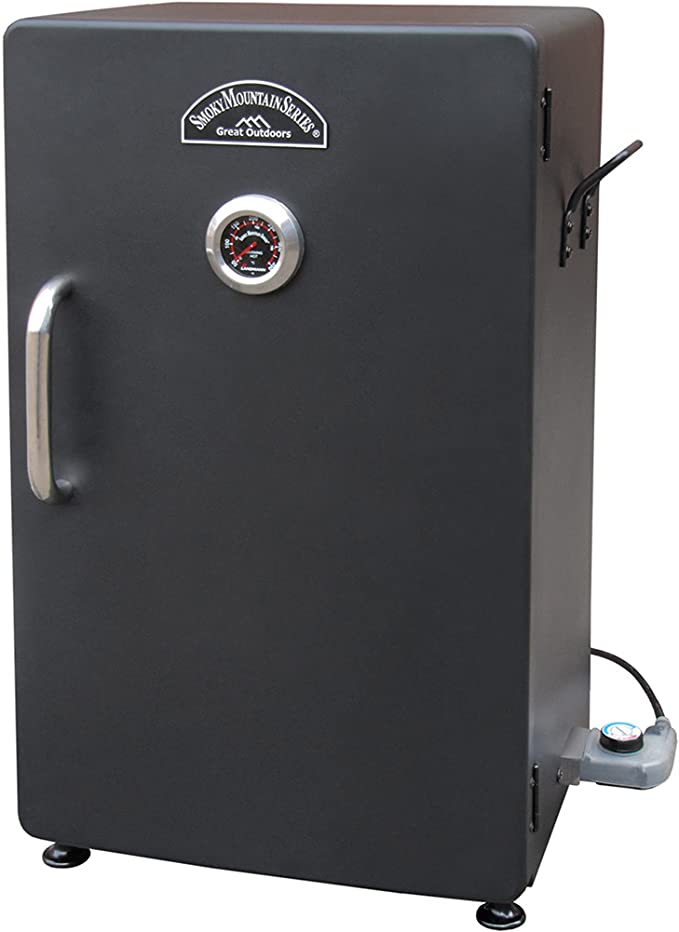 Landmann MCO 32954 Mountain Electric Smoker
SPECIFICATIONS
Door mounted window
Heat element: 1500 watts
Dimensions: 26.7 x 16.6 x 13.2 in.
BENEFITS
Very well built
Small enough to be portable
3 in 1 water, grease and wood chip tray
If you've been saying, "I want a smoker, but have no place to put it," then the Landmann Mountain Electric Smoker is for you. Whether you have a small yard or just want to streamline your household appliances, you'll be thrilled with how this baby performs.
With a three-in-one tray for your wood chips, water bowl, and grease tray, it's easy to get yourself ready for a smokin' good time. This smoker might be small, but the optimized cooking space with three chrome-plated grates allows for plenty of room for all of your meat and more.
The Landmann Mountain Electric smoker has a window on the door, so you can check on your food without having to open the door and let heat escape. The smoker is lightweight, too, so you can quickly move it wherever you need it to be. You can also trust that it will remain steady on any surface, thanks to its adjustable feet.
With solid stainless steel construction, a 1500-watt heat element, and independent temperature control, the Landmann Electric Smoker could be the one you're looking for.
Advantages
Extremely powerful element: Most models with a 1500 watt element are larger, this means it heats up fast.
Viewing Window: You can see what's going on inside your smoker without opening the door.
Light & Small: Small enough to be considered portable.
Disadvantages
Can't refill wood chips without opening the door: I'm not sure why models still have this issue in 2022
Leaks grease: You will want to use this smoker on a gravel surface as liquids build up on the bottom and eventually leak out.
Door seal isn't the best: I had to fix mine with some felt strips and a high temperature rubber sealer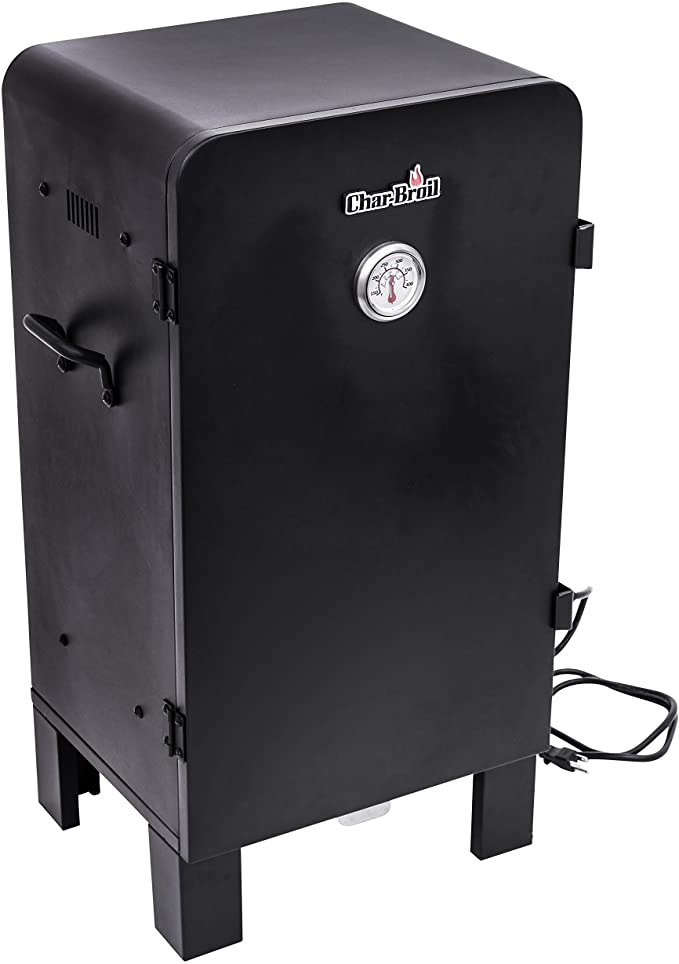 Char-Broil Analog Electric Smoker
SPECIFICATIONS
Interior cooking space: 544 sq. In.
Heat element: 1200 watts
Dimensions: 33.5 x 20.7 x 15 in.
BENEFITS
Two heavy duty door latches
Extremely well insulated
High end smoking experience on a budget
You know the Char-Broil name for grills. Now the brand's superior reputation extends to the electric smoker field, too. The Char-Broil Analog Electric Smoker is reasonably priced, but that's because there are no frills with this model.
What you do get is an insulated, double-wall structure with two exhaust ports and a 1200-watt heat element. Three chrome-plated cooking grates allow enough space for you to cook up generous platters of food. The analog temperature gauge is conveniently located right on the door, which has a double latch to keep in all that smoky goodness while cooking.
If you're looking to get your feet wet with smoking meat, the Char-Broil Analog Electric Smoker is a great option.
Advantages
Affordable: If you are strapped for cash, this is a great option for you.
Large wood chip tray: you can smoke for hours
Excellent insulation & Stainless Steel: I was shocked to see how well the Char-broil analog smoker retained heat.
Disadvantages
Analog: doesn't have many extra features, which may be a pro if you struggle with technology.
Temperature adjustment knob placement: Located at the bottom of the smoker and right beside the heating element, so you have to bend down and reach near the hottest part of the smoker.
Bradley Smoker BS611 Original Smoker
SPECIFICATIONS
Interior cooking space: 4 racks
Warranty: 1 year
Dimensions: 34 x 20 x 18 in.
BENEFITS
Up to 9 hours of smoke!
Designed for low and slow
Built like a tank
Bradley is synonymous with top-notch smokers, and the Bradley Smoker BS611 Original Smoker is proof. Its stainless steel interior contains four wire racks that allow you to smoke plenty of meat at the same time. The racks have supports, so there's no danger of them tipping when you pull them out—a safety feature that both novice and experienced smokers will appreciate.
If you like appliances that offer more than one function, you'll want to take a closer look at this Bradley Smoker. Not only does it smoke meat, but it also works as a slow roasting oven and a slow cooker.
With other smokers, there's a risk of moisture damage to the heat switch, but not with the Bradley—the heat control is situated by the smoke generator instead. The temperature function is easy to use, making this smoker the right choice for first-timers. This smoker doesn't get as high in temperature as other smokers on this list, so if you're in the market for a cold smoker, this one might do the trick.
Advantages
Very secure racks: Safety feature keeps racks from tipping when you pull them out
Cold smoking approved: It's excellent for cold smoking just about anything
Multi-functional: you can use it as a roasting oven and slow cooker
Disadvantages
It's heavy: At 50+ pounds, this is one of the heavier smokers on our list
It doesn't use wood chips: This is both a pro and a con. Rather then using wood chips that you can buy from any store, the Bradley BS611 uses bisquettes which may or may not be available near you. On the plus side this model uses an automatic feeder which can supply bisquettes for up to 9 hours without
Expensive: If you only want it to use the smoke option, there are other lower-priced options
Old Smokey Electric Smoker
SPECIFICATIONS
Interior cooking space: 2 racks.
Warranty: 1 year
Dimensions: 15.5″ X 15.5″ X 29″
BENEFITS
Unique design
Lightweight
Simple controls
Simple and sturdy are two words that come to mind when you first lay eyes on the Old Smokey. The steel gray electric smoker might not win any household appliance beauty pageants, but what it lacks in first impressions you'll forgive and forget when you taste the mouth-watering food that comes out of it.
There's not a whole lot to do with Old Smokey other than adding some wood chips to the chip tray and plug it in. The thermostat is easy to adjust so that you can put in a wide variety of meat cuts with minimal effort.
The flat lid—which fits nice and tight on the smoker—ensures that juices drip down and get reabsorbed by the food, so there's no fear of dried out chicken or turkey here. Speaking of which, this is the ideal smoker for both chicken and turkey, but you can comfortably smoke brisket, pork, seafood, and other game in it as well.
Often under $200, this workhorse is a good option for someone new to smoking. But it's not a bad option for someone who wants to expand their smoking capabilities with a second appliance either.
Advantages
Solid, but light: Very lightweight—other smoker models are almost twice as heavy
It's simple: Electric smokers generally have a lot of technology built in, this inevitably means more things that can break. But Old Smokey side steps this by avoiding all the extra bells and whistles.
Disadvantages
Unattractive Design: If you like your appliances to be visually appealing, this is not the smoker for you
Poor ventilation: Unlike other smokers the Old Smokey doesn't have a vent. This means as your meat cooks the moisture has nowhere to go. The easy solution is to open the lid every now and then to let the air escape, but of course then so does your smoke.
How to Buy the Best Electric Smoker
There are a lot of electric smokers on the market, all at different price points. That's great news because no one likes to see their hard-earned cash go up in smoke.
If you're not sure which one is right for you, or maybe your friends have sacred you away with several myths about electric smokers.

We've got some key features and characteristics that you should consider when you're thinking about buying an electric smoker.
1. Strength and durability
Strength and durability are two core characteristics you should always look for in everything you buy. In an electric smoker, they're must-haves.
We bet you'll fall in love with your electric smoker's cooking capabilities, so opt for one made by a reputable brand. That way, you'll be able to keep Old Smokey around for a good long while. Look for one with sturdy construction that looks like it's up to the task of taking on massive amounts of food. Models made out of stainless steel and coated in porcelain are an excellent choice, as this duo of materials is more than tough enough to stand up to high heat.
2. Size
You don't need a commercial-sized smoker for your home, but you do want one spacious enough to smoke at least a few rounds of food at a time. Many of the electric smoker reviews in this guide provide specifications as detailed as the square inches of cooking space in the interior. Some will tell you the actual amount of space in the unit, but read the instructions to see just how many racks of ribs, chicken, and other meats you can smoke at once.
3. Price
Just like with all cooking appliances, there are some pricey models out there when it comes to electric smokers. But don't worry—you can also find plenty within your budget. Start by listing your must-have features, then find electric smokers in your price range.
We suggest choosing one with a mid-range price. Treat it well, and you'll have a smoker that lasts for years.
4. Flavor potential
We know you're big on flavor—after all, you are in the market for an electric smoker. The smoker adds flavor to your food thanks to the wood chips it burns while cooking protein to perfection.
That's why you must choose a smoker that includes a wood chip tray—if it doesn't have one, it's a deal-breaker. The magic happens when you fill that box with hickory, mesquite, alder, and infuse the meat with those exquisite flavors.
Get Fired Up to Use Your Electric Smoker
Now that you have a better idea of what's on the market, we're convinced that you'll find the model you like. But for those of you who are unfamiliar with smoking as a cooking technique, we'd like to give you some guidance for getting started with your new favorite household appliance.
A Word Before You Start Smoking
Your smoker won't come in a million pieces, but there will be some assembly required. For the parts that are assembled, you'll want to make sure that the screws are tightened. Place the unit down on an even surface. Some units have adjustable legs so you can even out your electric smoker even though it's on an uneven surface. Take the time to do this—the last thing you want is a very hot household appliance in danger of tipping over.
Now that your electric smoker is set up, it's time to grab that rack of ribs, right? Wrong.
Look, we know you're excited to get cooking with your smoker. But aside from assembling the parts, there's also something else you should do before you put any meat in it: season.
There's a Reason for the Season(ing)
We don't mean grabbing some salt and pepper and sprinkling it all over your new electric smoker—save all that for the meat itself. The practical reason for seasoning your new electric cooker to remove any oil and residue that got left behind during the manufacturing process. That's why you don't want to put any food in it the first time you turn it on. If you do, that gross residue will be all over your meat.
Seasoning a smoker is all about prepping the interior coatings, otherwise known as curing, and preventing any rust from forming. What will build up—and go ahead and let it!—is a thin black film, which means big things for the flavor of your food.
That's why I wrote this quick how to season your electric smoker guide.
Frequently Asked Questions About Electric Smokers
Whether you're brand new to the electric smoker game or have just upgraded to a better model and are ready to put it to good use, here's some useful info to enhance your experience.
Are Electric Smokers Any Good?
They sure are! You don't need to worry about shoveling charcoal or pellets into a smoker to get these babies up and running—simply plug it in and set the temperature gauge. A few hours later, the juicy, fall-off-the-bone ribs or golden brown turkey you're drooling over will be yours for the eating. All you need is to fill that fragrant wood chip tray, and you're good to go and make the best meal of your life.
Can I Use An Electric Smoker In My Garage?
It depends on the model. Unless it's clearly indicated by the manufacturer that it is safe to use indoors, you must use your electric smoker outdoors in uncovered areas.
For those that are for outdoor use only, you should place your smoker at least 10 feet away from any house or building.
Can I Use An Electric Smoker In My Garage?
It depends on the model. Unless it's clearly indicated by the manufacturer that it is safe to use indoors, you must use your electric smoker outdoors in uncovered areas.
For those that are for outdoor use only, you should place your smoker at least 10 feet away from any house or building.
Can I use pellets to power my electric smoker?
No. Pellets are for pellet burners only. Use wet or dry wood chips for electric smokers.
How often do I clean my smoker and how do I do it?
You should clean your smoker after every use just as you would a barbecue grill. Always be sure to unplug the unit first. Because the cooking area is separate from the electrical components, you can be sure that you won't damage the unit. If you forget to clean your smoker, the food residue may start to smell, so be sure to treat it well.
Do not use harsh chemicals or cleaning agents on your smoker. Masterbuilt recommends a 50/50 solution of apple cider vinegar and hot water. Put both in a spray bottle and shake well to combine them. Spray and wipe away any residue with a soft cloth or sponge. Simple.
Can I use an extension cord with my electric smoker?
Yes, but it must be clearly marked for outdoor use and have a tag that says it can be used with outdoor appliances. The extension cord should also be less than 25 ft long. Whenever possible, try to plug directly into an outlet.
Does an electric smoker use a lot of electricity?
Yes, smokers will consistently use more electricity than other appliances. Of course, larger smokers will use more smoke than smaller ones. Read all instructions from the manufacturer on how to properly use your new electric smoker, so you don't waste electricity or run up a huge energy bill.
Can I use my electric smoker in the rain?
Not a good idea. The rainwater will get into the air vents and damage your smoker's electrical systems. Plus, electricity and water isn't exactly the safest combination, so be sure to use your smoker on days when there is no rain in the forecast. Also, if you plan to store your electric smoker outdoors when you're not using it, be sure to get a water-resistant cover to protect it from dirt and rust.
Do electric smokers cook faster?
Yes. That's because there is no combustion in an electric smoker. This means that there is less airflow, which would otherwise cool down your food. The heat retention makes all the difference.