A fire pit is something that most people would love to have in their backyard. It is a great area where everyone could gather around, share stories over great food and drinks. There is also a warm, cozy feeling when you are just relaxing beside a roaring camp fire while relaxing outdoors.
Unfortunately, there are those who are hesitant when it comes to actually burning fire wood outside their own homes. Fire is after all unpredictable especially for camping or grilling novices. Let's face it, not everyone is adept at building campfires and certainly, not all of us have worked with traditional wood burning fire pits.
An electric fire pit could be one of the best options for people who are hesitant or are greenhorns when it comes to kindling fires or don't know how to work with traditional fire pits. Here are some reasons why:
Electric fire pits do not require you to light a match or a torch. You can ignite it with a push of a button. You can also control the size of the flame by a switch or remote control which is difficult to achieve with traditional wood or coal-burning fire pits (unless you're already an expert.)
Electric fire pits have automatic fail-safe mechanism. It immediately shuts off the flame to prevent unintentional ignition of flame unlike wood which you have to watch closely and not leave unattended for a period of time.
Electric fire pits are fueled by electricity so you don't necessarily need to buy or chop wood nor do you have to deal with soot, ashes and embers once you're done. It also does not produce a lot of smoke so you don't smell even if you sit by it the entire evening.
Can you find any Electric Fire Pit in the Market?
Unfortunately, NO, not many seem to be keen on selling the electricity-fueled firepits despite how safer and easier it is to use for some people. There seems to be little to no trace of an electric fire pit available online or in Amazon.
Here's why we think these units are scarce.
Electric fire pits would look awkward outside your house. Fake looking lava rocks or plastic looking logs lit up to imitate a burning fire does take away from the actual outdoors, campfire experience. Also, keeping electronic appliances in different seasons or weathers can be also dangerous.
Electric fire pits do not put out as much heat as wood, coal or propane gas burning ones. It would literally feel nothing like a roaring camp fire could actually bring. Plus, it would probably be give off an unpleasant noise that isn't necessarily relaxing for you, your guest or your neighbors.
You can actually forget about grilling or even toasting marshmallows over an electric fire pit. So basically, that takes half the fun away, right?
Electric fire pits tend to be pricier than most traditional fire pits.
Frankly speaking, nothing compares to experiencing a real, live, warm fire. It just provides a totally different aura and just creates a cozy, comforting, fun experience especially when you add grilling meat or making s'mores in the mix.
Of course, if you are still keen on getting an electricity-fueled fire pit then, you are more than welcome to scour the internet or any home depot stores for one. In fact, if you ever do find one, it would be great to leave a comment or two on where to get them to help other wood-burning novices out.
But, if you are willing to try out a few good alternatives to an electric fire pit without taking on too much wood-burning responsibility, then here are some suggestions that you can consider. These 5 fire pits are almost as safe and easy to use as you would an electric fire pit and lights with igniters instead of matches or torches.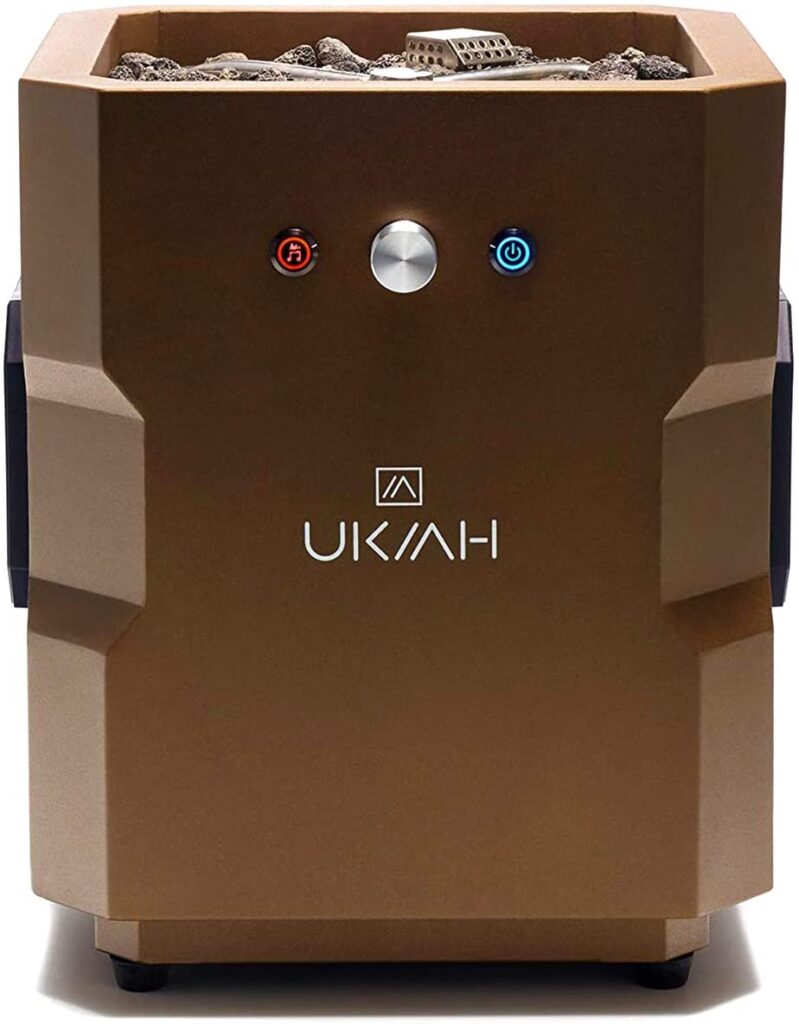 UKIAH TAILGATER FIRE PIT TABLE
The UKIAH Tailgater music fire table is probably THE ONLY fire pit we could find on Amazon that is also fueled by electricity. This weather-resistant, powder-coated steel constructed unit is water-resistant, portable, and light so you can bring it with you anywhere. This also runs on liquified petroleum gas in case you would rather use an RV gas line to start your fire. It features an electronic ignition with a flexible flame control dial so you can easily turn on/off the flame as well as control the flame height or fluctuation. Dimensions:14″L x 14″W x 17″H; Weight: 30lbs; Voltage:12 volts; Wattage:100 watts.
Advantages
Package includes: steel fire pit, magnetic cover lid, stainless steel x burner, quick-connect LP regulator hose, charging cable, black lava rocks, two 3.5†marine-grade speakers.
It has a rechargeable lithium-ion battery.
It has a 2.1 audio system so you can have music while sitting by the fire.
Disadvantages
Easily damaged if not packed properly.
Water resistant but can't be submerged in water in case outdoor gets flooded.
Does not radiate much heat.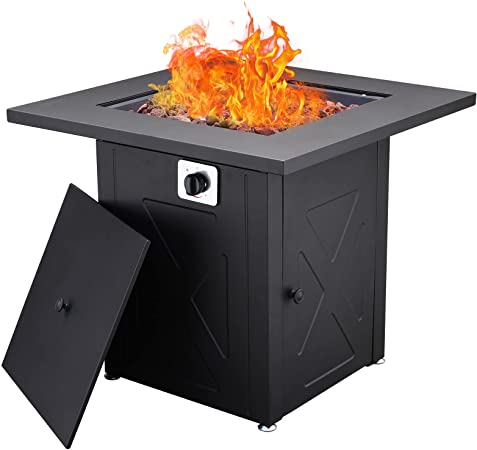 GRAND PATIO OUTDOOR FIRE PIT TABLE
Here is another great unit to start easing your way towards a wood burning fire pit. The Grand Patio fire pit table is CSA approved propane gas fire pit table with a 50,000BTU heat output. The 28-inch table does not look too big or daunting and is made with durable powder coated steel frame. Fire pit table comes with a cover/lid, lava rocks, burner with pre-attached hose and regulator and installation manual.
Advantages
It features an integrated matchless starter so no need to manually light up wood or coal to start a fire.
Conveniently located controls so you can automatically temper the height and strength of your flame.
It can double as an outdoor table if not in use as a fire pit.
You can roast marshmallows over it.
Disadvantages
Can only be used outdoors.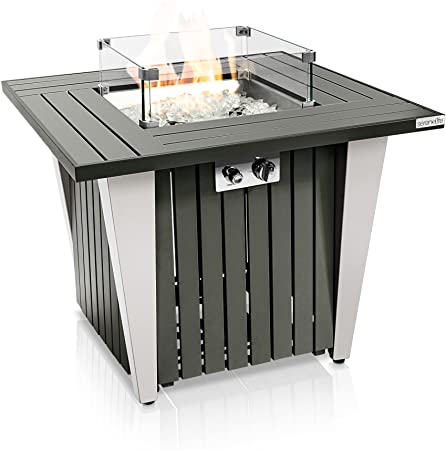 SERENELIFEHOME PROPANE FIRE PIT TABLE
The fire pit and table from Serenelifehome is also another great way to get a more campfire feel without having to gather wood or light it with a torch. The safe and ETL certified patio fire pit runs on propane gas and has a stable, clean combustion without ash or smoke. It generates up to 50,000BTU and can cleverly hide away a 20lbs propane tank. This fire pit also doubles as a table when not being used for fire. It is also durable enough to stay outdoors in all types of weather since it is constructed from heavy-duty steel and stainless-steel materials.
Advantages
Comes with waterproof weather cover to protect it from any type of weather and UV rays.
Safer and secure new generation pulsed igniters and safer ignition.
Anti-static ground wire and auto flame-out protection device.
Adjustable flame height thru valve knob.
Tempered glass wind guard with aluminum profile also keeps hands away from flame.
Disadvantages
Assembly required and might take time.
Outdoor use only.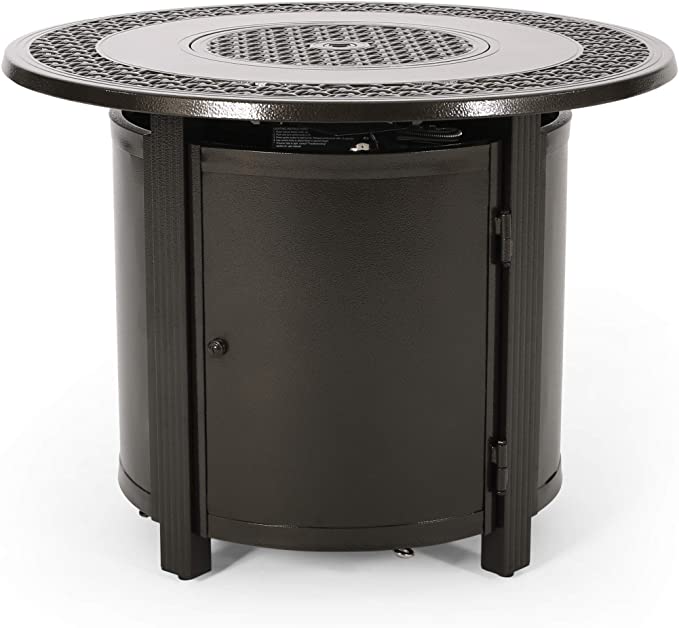 CHRISTOPHER KNIGHT ROUND FIRE PIT
This fire pit table is constructed with aluminum, rust-resistant material which makes it lightweight, sturdy and can last a long time. It conveniently has a built-in space for propane gas so there is no need to run a hose to a tank a distance away and lessen tripping accidents over exposed tank lines. It has a dimension of 33.50†W x 33.50†D x 25.25†H so it does not take up a lot of space.
Advantages
Convertible into a table by putting on the removable burner cover.
Has adjustable flame control.
Easy to assemble.
Disadvantages
Body can be easily dented.
Burner is not attached to the table.
Need to cool down the fire pit before attempting to use as table.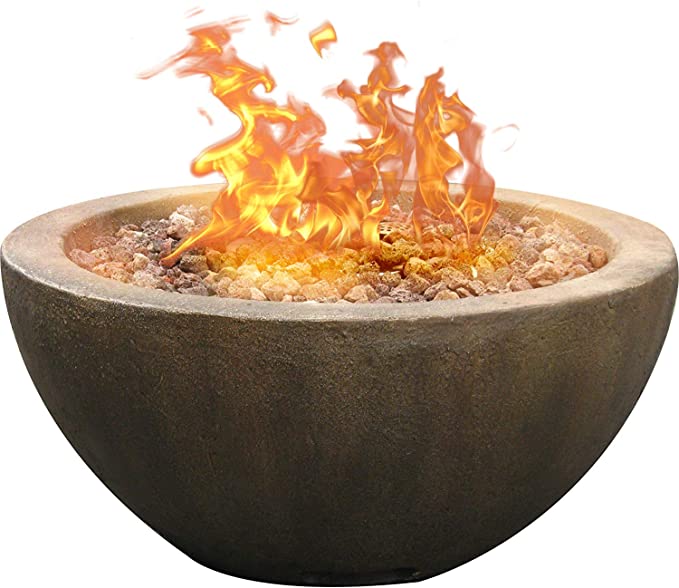 BOND MANUFACTURING MONDAVI GAS FIRE PIT
If you are not interested in getting a fire pit table but still want woodless burning, you can choose this Mondavi fire pit. This round fire pit bowl is made from durable and lightweight Envirostone which is perfect for outdoor use. It is constructed from metal with concrete and steel finish with ProCoat coating system that guards it from extreme temperatures. It comes with lava rocks, a protective cover, 10 feet regulator hose and tank seat.
Advantages
It has pulse ignition for easy lighting and extinguishing smoke-free flame.
Convenient control knob enables you to adjust flame to desired height and size.
Salt finish to prevent cracking, fading and chipping.
50,000 BTU provides ample warmth and light.
Faux concrete finish gives more outdoorsy feel.
Disadvantages
Fire ring is smaller in proportion to the pit so heat output is minimal than standard.
Finish is easily prone to cosmetic damage.
Our Best Pick
Seeing that there are not that many leads to different electric fire pit, we will go with the UKIAH TAILGATER FIRE PIT TABLE.
Obviously, it is the only fire pit that runs on electricity which we could find in Amazon however, it does not mean it's not worth buying. If you're really into owning an electric fire pit, this model does provide features that make a fantastic portable fire pit.
The UKIAH Tailgater can also run on LPG if you run out of battery so it's pretty versatile with fully functional speakers to boot!
As daunting and scary lighting a match to burn wood for your fire pit might be, you definitely do not have to miss out on the fun and the relaxing atmosphere of gathering around a warm, open flam in the comforts of your own home.
Conclusion
Fire pits have come a long way because there are different styles and units that are now available for everyone. There are people who have the traditional built-in fire pits in their backyards made from stone or brick while there are copper fire pits, wood burning grills, propane portable firepits and even fire pit tables that have igniters and use lava rocks to create that flickering light from wood flames. Keep in mind also that there are fire pits that have mesh screens which covers the open fire in case you are afraid that flying embers or hot ash might fly out of the pit and burn things around it.
Electric fire pits might be out there but the closest you can get to having a matchless campfire is to go with propane gas fueled fire pits that have built-in igniters and adjustable knobs for flame control. Most often than not, these fire pits also have fail-safe features which automatically shuts off the gas valves to prevent unplanned lighting of any fire. Also these types of fire pits have electronic ignitions which basically just needs you to push a button to start and to turn off so it means less work!

Hi, I'm Adam and I'm a HUGE fan of Food and Cooking.
Do you enjoy grilling sessions with your family while staring at the beautiful fire pit flames?
Flame Gorilla is the site to learn how to have that perfect backyard experience.