A chiminea fire pit is one of the most unique things that you can have in your backyard. It is the perfect outdoor piece that both stand out in function and style. They are ideal for any porch, deck, patio or backyard as an attractive accent décor which also provides enough warmth for family and friends to gather around.
This fire pit or outdoor fireplace is derived from the traditional Mexican versions and comes in various sizes but all have the same structure. The freestanding fireplace or oven has a bulbous hollow body which is connected to a narrow smoke vent. Traditionally, chimineas are made from clay or terracotta but today there are various models constructed from different materials.
Chimineas are more well-suited for small spaces compared to standard firepits which usually require larger spaces. The shape and narrow built of a chiminea takes up lesser room and only radiate heat from their opening hence, they heat up a small area very intensely. However, newer models have a mesh all around its body which allows for a wider heating area.
You can definitely enjoy outdoor cooking with your chiminea fire pit as well. It is capable of grilling, casseroles and even pizza! This was the exact purpose of this item centuries ago. Plus, with this fire pit's unique shape, the fire is easier to control and light making it safer than open firepits. They are also pretty convenient to clean and move around. Most of all, with the narrow vent, you can say goodbye to the annoying smoke getting into your eyes or clothes when enjoying conversations while keeping warm outdoors.
If what you've read is making you excited to go and get your very own, here are the top 10 chiminea fire pits found on Amazon.
TERRA COTTA/ CLAY CHIMINEA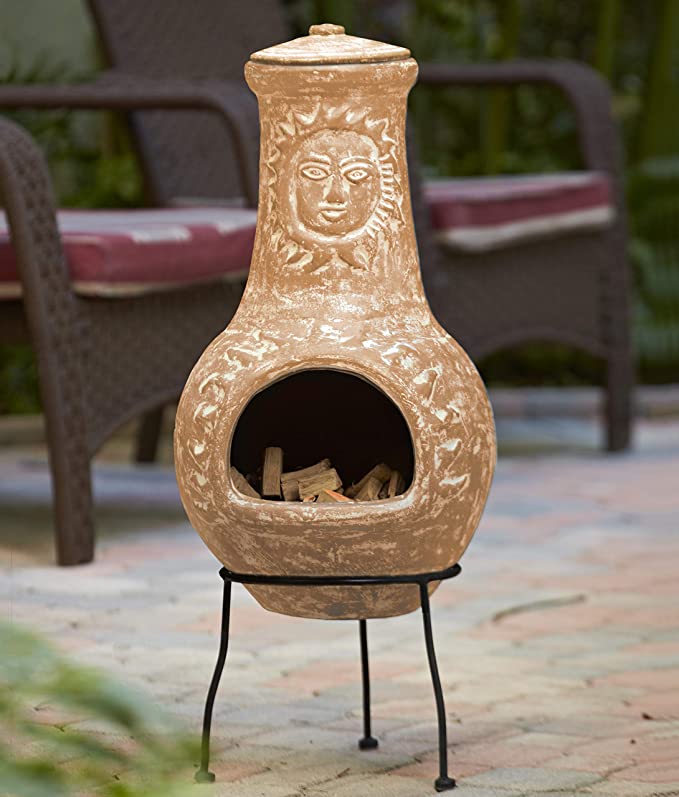 THE LAKESIDE COLLECTION OUTDOOR TERRA COTTA CHIMINEA
The simple design of the Lakeside Collection outdoor clay chiminea makes a striking addition to your patio, backyard or deck while giving a warm, cozy fire during chilly nights. This terra cotta, rustic style finish is sturdy and made from natural clay so with proper care, it will surely last for many outdoor gatherings. The attractive sun design is not just an eye-catching piece but a great way to get cozy and warm.
Advantages
Dimensions: 25.98 x 16.14 x 16.1 inches and weighs 28.6lbs so it's easily portable.
Comes with metal stand and chute cover.
Makes for the perfect gift whether as outdoor fireplace or home décor.
Disadvantages
Color might change to lighter shade after a couple of use.
Delicate and prone to cracks after a while.
Opening is not big enough for standard wood so you have to use a kindling sized wood.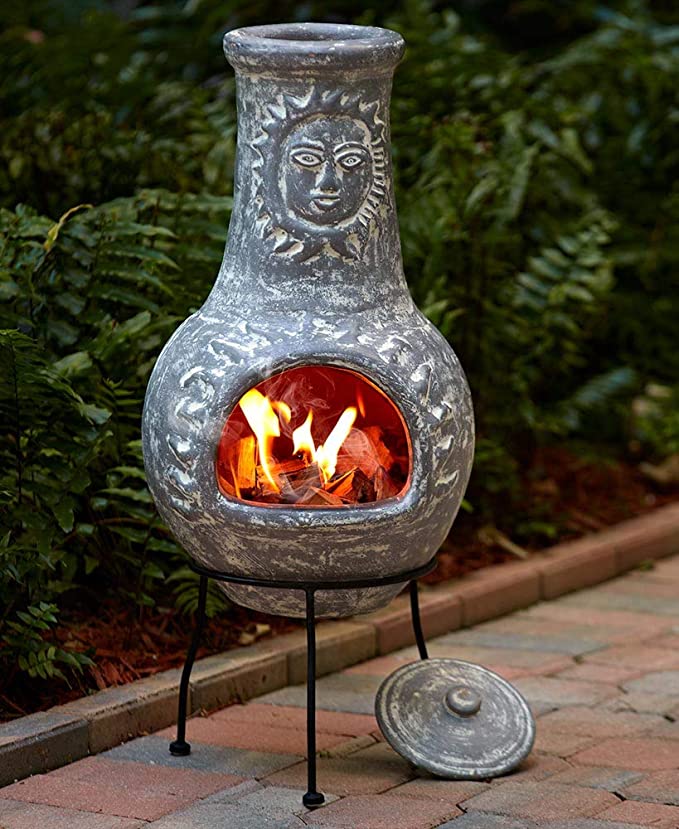 FIREPIT OUTDOOR CLAY CHIMINEA
This classic and traditional chiminea from FIREPIT is something that will definitely add charm to your backyard. It is made out of clay with a stone finish and uses wood as fuel to provide you with a quaint but cozy enough fire during chilly evenings outdoors. The lively sun embossed on the funnel is a great contemporary accent, making this clay chiminea an art piece that brings your backyard or patio together. It is approximately 36†in height.
Advantages
Easily portable and can be moved anywhere you want around your place.
Traditional looking with earthen-wear look which is stylish.
Clay absorbs heat and is a natural radiator.
Comes with its own metal stand and chute cover to protect from the weather.
Disadvantages
As with all clay chiminea, they are prone to cracks after a couple of uses.
Too small to warm up a huge group.
CAST IRON CHIMINEA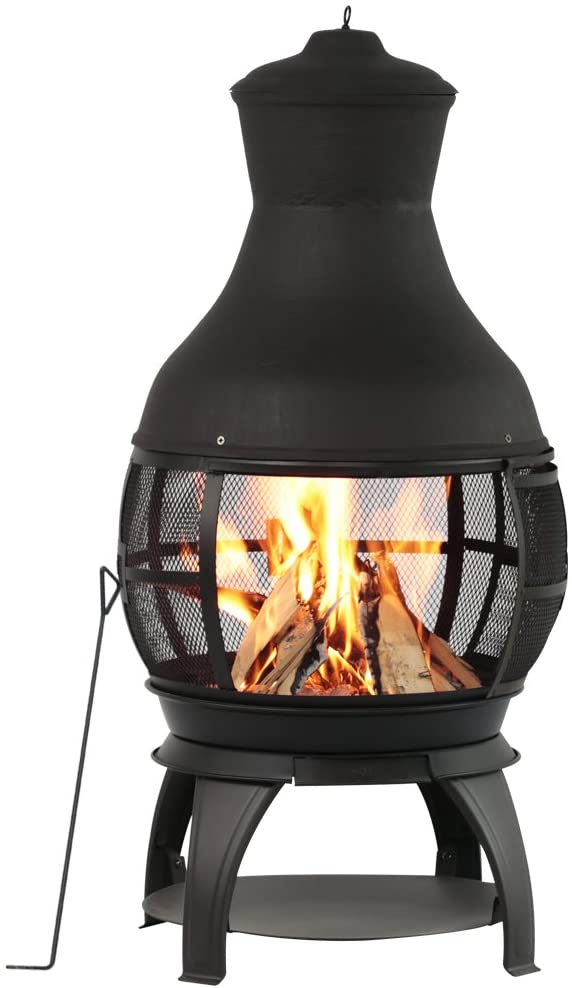 BALI OUTDOORS CHIMINEA FIREPLACE
This chiminea fire pit has a fire cage area capacity measuring 22â€x 22†x 45†which provides plenty of room to put firewood or artificial logs in order to keep a warm toasty atmosphere for you. The two-piece log grate ensures good airflow so that the fire has a steady, consistent burn. This chiminea features sliding door and ash tray to help you add fuel or remove ash easily. The handle fully slides the door open to the side. The heavy-duty cast iron construction ensures durability for years. This the #1 Bestseller in chimineas on Amazon.
Advantages
Easy to assemble and clean.
4 sturdy iron legs ensure stability and secure placement, keeping it away from the ground safely.
Round roof and rain cap helps protect the fire cage from elements.
360 mesh screening enables all-around fire visibility and warmth.
Disadvantages
Screws and nuts are quite cheap and difficult to put together. Screw holes don't align.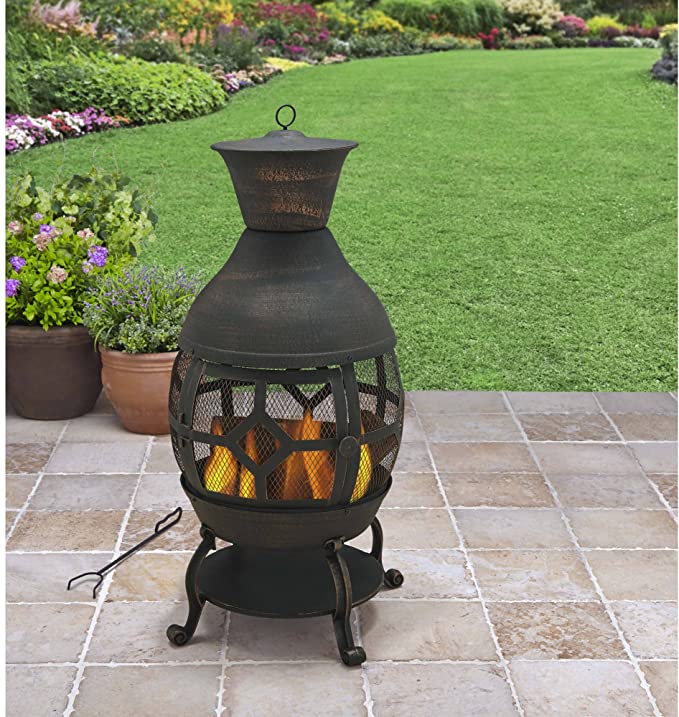 BH & G CO Antique Chiminea
The Better Homes and Gardens chiminea is made out of double cast iron material with a bronze finish which gives this antique looking fire pit a stylish flare. The mesh screen cover provides an all-around view of the fire as you gather around it, night or day. Its dimensions are 22.8″L x 22.8″W x 45.7″H can burn enough wood logs to keep a steady warm fire burning. It weighs about 1.52lbs and can also be the perfect housewarming gift for special occasions.
Advantages
Nylon cover is included to keep your chiminea protected from the outdoor elements.
Matching bronze fire poker to conveniently help tend burning wood.
Comes with very precise and clear instructions for easy assembly.
Lightweight, easy to move around but has very sturdy 4 legs for support.
Disadvantages
No fire grate and ash pans.
Flu is restricted to enable a better draft.
Exterior tends to peel after a few uses.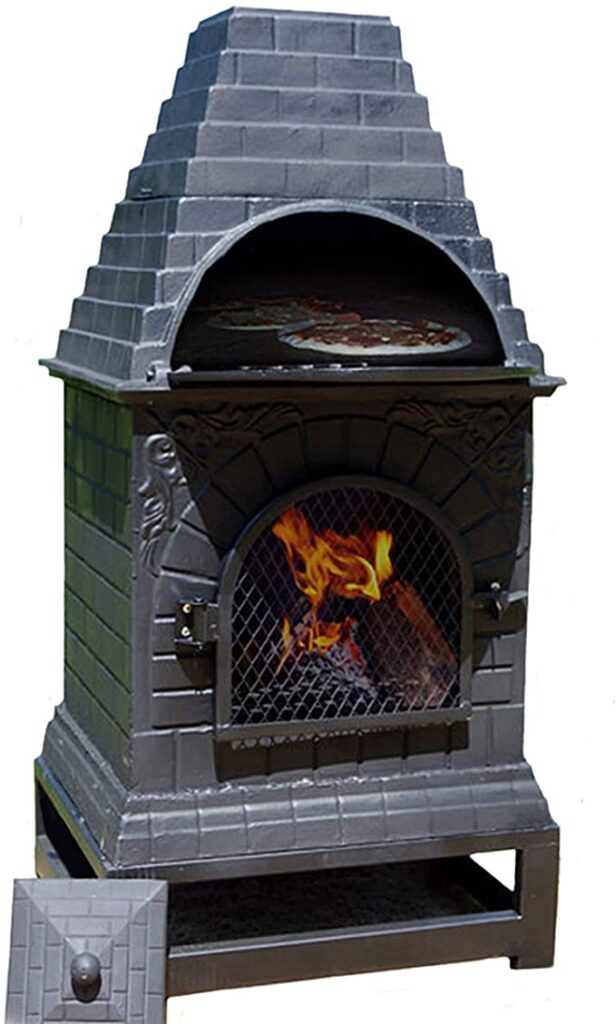 CASITA WOOD BURNING CHIMINEA
The Casita chiminea from Blue Rooster is made out of solid cast iron and large enough to be used at home or in commercial settings like restaurants and campsites. The XL Casita has a dimension of 22W x 18D x 48H and has a large fire box perfect for burning 18-20†sized firewood. It comes with a lifetime warranty as well.
Advantages
Firebox and over are all cast iron.
Easy to place/remove cooking grate for efficient functionality.
Beautiful semi-circular sun on the upper casting is a hinged door to cook food inside (can fit 16†round stone for pizza.)
Disadvantages
Weighs 200lbs so you can't really keep moving it around.
Retouch paint over time.
Cast iron rusts after long exposure to rain and sun so you need to buy cover.
STEEL CONSTRUCTED CHIMINEA
KAY HOMES DECK MATE CORONA CHIMINEA
Kay Homes' Deck Mate Corona chiminea fireplace is made out of sturdy steel construction material and is ideal for firewood and artificial log burning. The wire mesh screening around the bulb shape fire pit allows a good 360-degree view and warmth of the fire while protecting occupants from any sparks of flame or flying embers. Its dimensions are 16.3 x 16.3 x 36 inches and is 3 feet high. It is Amazon's Choice in Kay Homes' chiminea products.
Advantages
Elegant, stylishly elegant embossed design and finish.
Easy to assemble and perfect for a small space.
Includes a small metal poker to tend the firewood.
Very lightweight and can be used indoors for candle or fireplace gel can.
Disadvantages
Tiny and flimsy material.
Highly prone to rusting.
More ornamental than functional.
UDPATIO OUTDOOR CHIMINEA FIRE PIT
This outdoor chiminea has a unique square tower design as opposed to the traditional narrow flu that most chiminea have. It also has a square shape instead of the usual bowl fire pit which help extend the heating effects of this fire pit. The heavy-duty steel frame provides sturdy and secure foundation while burning wood. It also has a firewood rack under the hearth to facilitate firewood storage as well as drying wood on. Its dimensions are 23.3 x 19 x 43.3 inches and has a bronze color with gold powder finish for that vintage look.
Advantages
Includes wood grate, mesh spark screen and firewood poker.
Tower spire vent allows great air flow to release steady stream of heat.
360° visibility from spark screen.
Easy to assemble/install with easy to follow manual.
1 year warranty service.
SUNNYDAZE SANTA FE STEEL CHIMINEA
The Sunnydaze Santa Fe chiminea is the perfect example of a modern fire pit. Its 19.75 x 19.75 x 50 inches dimensions makes it the perfect size for your patio or backyard. It weighs 32.6lbs so it can be repositioned or carried around your deck or yard where it is needed. It is made of durable steel with a unique shape making it highly durable and stylish at the same time.
Advantages
Product includes log grate to promote optimal air flow for better fire.
Authentic rust patina provides antique look that may change color over time when exposed to water and oxygen. (To avoid color changes, keep covered when not in use.)
Easy to assemble as it includes all components, hardware and tools.
Comes with 1 year manufacturer's warranty.
Disadvantages
No 360-degree opening or mesh screen.
Does not include chiminea cover.
Check for missing parts upon delivery.
CAST ALUMINUM BUILT CHIMINEA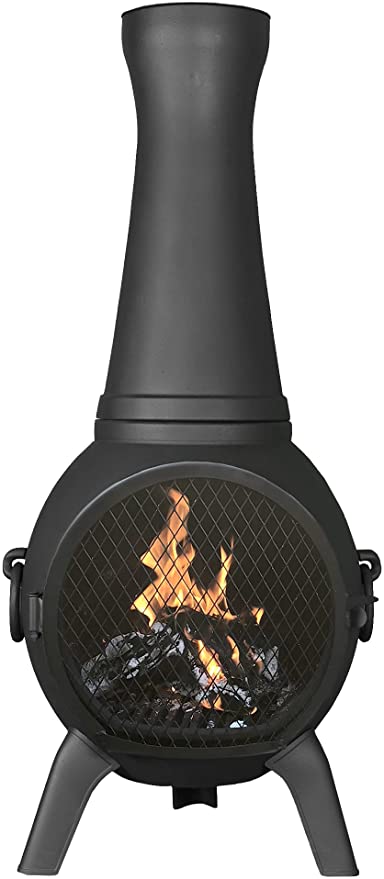 THE BLUE ROOSTER CO. PRAIRIE CHIMINEA
The Prairie fire is a medium sized chiminea which can handle 16†fire logs, perfect for lighting up your patio or deck in the evenings. The cast aluminum construction ensures a rust-free, low maintenance fire pit that lasts long. Its dimensions are 18†x 18†x 44†and weighs a good sturdy 44 pounds. This chiminea is efficiently designed to burn with little to no smoke and for safe use on your wooden deck or patio.
Advantages
Neck can be removed and includes grilling grate for barbecue nights and steaks.
Comes with stainless steel screen and wood tool.
Easy to clean and assemble (or disassemble if you want to move it.)
Has hinged safety door to provide easy access to add wood or roast marshmallows.
Comes with a LIFETIME WARRANTY.
Disadvantages
Woods need to be cut to smaller pieces in order to fit.
Finishing might be prone to bubbling after a few uses.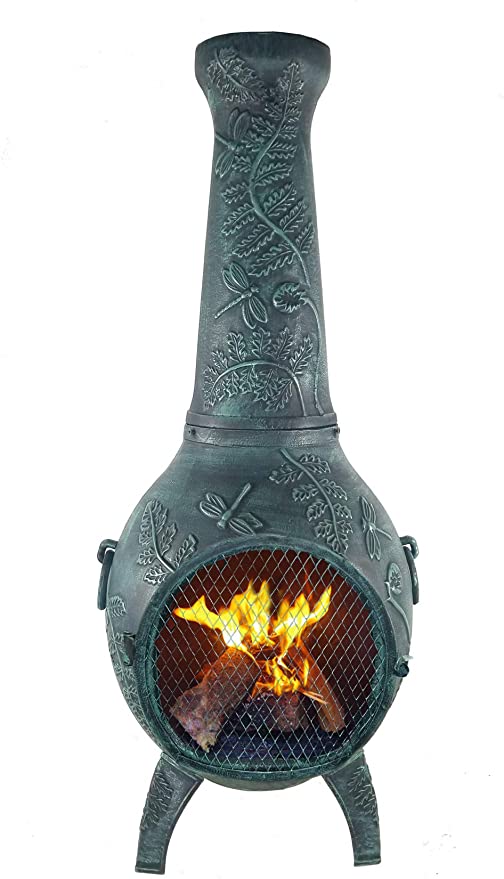 BLUE ROOSTER Dragonfly Chiminea
The Garden Style chiminea from Blue Rooster has a beautiful hummingbird hovering over a rose design The Dragonfly chiminea from Blue Rooster is certainly an artistic and stylish addition to any backyard or patio setting. This chiminea is built from excellent quality cast aluminum and combined with stainless steel ensuring that you have a sturdy, unique functioning outdoor fire pit. You don't have to worry about it rusting after a couple of uses and you can just continue enjoying the warmth of a roaring fire while trying your hand at open fire grilling or even just toasting marshmallows.
Advantages
Comes with fire grate, grilling grate, spark insert and cover.
Handles full size fire logs with a large mouth opening.
Mesh spark screen to protect you from flying ashes or embers.
Hinged safety door for easy access when adding wood or roasting marshmallows.
Requires little to no maintenance.
Built-in side handles for easy transportation.
Disadvantages
Cannot be used on a patio with wooden roof.
Final Verdict
The BALI OUTDOORS Chiminea Fire Place is the king and we consider it the best choice for chiminea fire pit in 2022.
Not only do we love how it merges the traditional chiminea look with a more modern and elegant construct but, we also love how it provides a 360 warmth and fire visibility. The cast iron material it is made of also makes it more resilient and long lasting as compared to the clay type.
The BALI OUTDOORS Chiminea is powerful and reliable as far as fire pits of this design is concerned. No wonder, it is the #1 best-selling fire pit in Amazon!
What to consider when looking for the perfect chiminea fire pit for your home?
Size – Chimineas vary in sizes. A smaller one may be useful because it will fit on a small porch or deck but, it can have its drawback. Always keep in mind that the bottom bowl part should be big enough to accommodate pieces of fire wood in the size you will be using. Most firewood are not that small, so a smaller model may be a hassle since you'll need to cut your own wood! If you don't want to go through the trouble, get a larger sized one.
Spark Arrestor – Some chimineas come with a spark arrestor (a mesh screen, similar to a fireplace screen) either in the neck or in front of the opening to the bowl or both. If yours does not come with these mesh screens you should consider buying one or making one to ensure safety while being close to a live flame. The spark arrestor prevents burning embers from escaping.
Material – The classic Mexican chiminea is built out of clay, like terra cotta. This is very attractive but it is not without problems. Clay can crack with time, especially when exposed to the high heat of a fire. They generally cannot handle large fires for extended periods of time. Ask if your chiminea is air-dried or kiln-dried. Kiln-dried models are more likely to be painted and sealed, making them more durable. Metal models, usually either cast iron or aluminum, are very durable. They are heavy but don't crack. Aluminum tends to be lighter than cast iron. The downside to a metal model or even cast iron is that they can rust if left outside and exposed to water. Ideally they require a tarp cover to protect it from weather between uses.
Cooking – One things to consider when buying any outdoor fire pit is whether you would like to cook on your outdoor fire. A chiminea is not an ideal fire pit for grilling. There is nowhere to place a grill or rotisserie since the large, long chimney neck is directly over the fire. However, there are some larger chimineas which has a detachable neck so it can double up as a grill (and it comes with its own grill grate as well.) There are new models also which allows you to bake bread or pizza in it as well. Of course, if you are looking grill huge portions of meat for a big crowd, it is best to use a different fire pit.
Overall, the chiminea is a fire pit that you can perfectly fit anywhere be it for style, design or functionality. You can definitely select one which you can use not just for warmth but also for some simple barbecues and s'mores creations. This is perfect especially if you have smaller yards or outdoor spaces in your homes but want to enjoy the outdoor comfort and coziness with a warm campfire feel. Of course, if you really want to go old school, you may want to consider getting a clay or terracotta outdoor chiminea!

Hi, I'm Adam and I'm a HUGE fan of Food and Cooking.
Do you enjoy grilling sessions with your family while staring at the beautiful fire pit flames?
Flame Gorilla is the site to learn how to have that perfect backyard experience.